Nachdem die letzte Party vor den Osterferien so ein voller Erfolg war, geht es jetzt in die nächste Runde!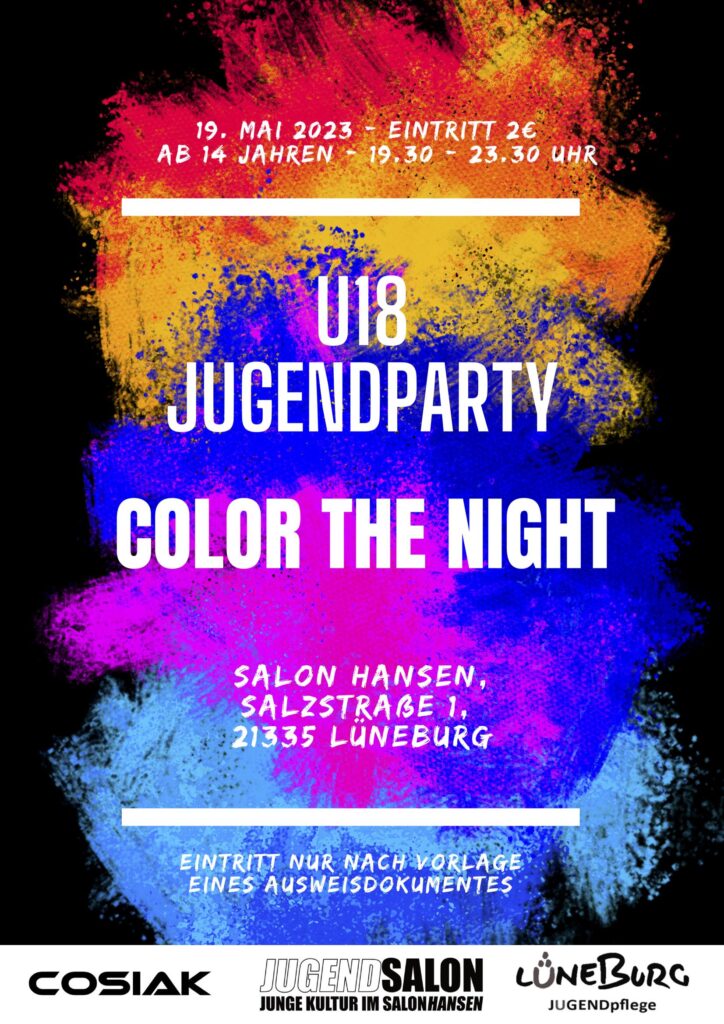 Die junge Kultur im Salon Hansen, besser als JUGENDSALON bezeichnet, organisiert am 19.05.2023 die nächste U18 Jugendparty für Jugendliche im Alter von 14-17 Jahren. Die Veranstaltung findet von 19.30 bis 23.30 Uhr im Salon Hansen statt.
Die Veranstaltung findet in Kooperation mit der Jugendpflege Lüneburg statt. Im Anhang finden Sie das Werbeplakat für die Veranstaltung.
Hier noch ein paar Informationen:
COLOR THE NIGHT – JETZT WIRD ES BUNT IM SALON HANSEN!
Wann: 19.05.2023
Wo: Salon Hansen, Salzstraße 1, 21335 Lüneburg
Alter: 14-17 Jahre
Beginn: 19:30 Uhr
Ende: 23.30 Uhr
Eintritt: 2 €
Langes Wochenende heißt U18-Party!
Nachdem beim letzten Mal über 200 Jugendliche gesprungen, getanzt und gefeiert haben, wollen wir dieses Mal die Nacht erstrahlen lassen!
COLOR THE NIGHT ist das Motto und das heißt je bunter, desto besser! Wir feiern den Frühling mit all seinen Farben!
Neben den fettesten Songs der Jahrzehnte und dem besten was das 21. Jahrhundert musikalisch zu bieten hat, legt DJ Cosiak auch eure Wünsche auf!
Es gibt noch einige Überraschungen, die wir für euch vorbereitet haben, damit es ein unvergesslicher Abend wird!
Schnapp dir deine Party Crew und komm wie du willst, aber vor allem früh, damit du auch wirklich reinkommst. Der Platz ist begrenzt.
Lass uns feiern, gemeinsam machen wir die Nacht bunt. Welche Farbe bringst du mit?
Wir freuen uns auf dich!
Dein Jugendsalon-Team 🙂